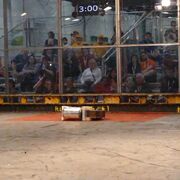 Deviled Egg
is a Heavyweight robot built by Zak Hassenein &
Lisa Winter
that competed in RoboGames 2017. It was a grey, circular, invertible, two-wheeled robot armed with a spinning drum powered by two brushless motors.
Unfortunately it was plagued with new robot syndrome, and suffered mechanical issues in both of its matches, and as a result failed to win a single match.
Robot History
Edit
RoboGames 2017
Edit
Deviled Egg's first match was against
Boris Badenov
. This match started with Deviled Egg slowly spinning up, Boris Badenov then rammed it, disabling one of its own claws in the process. Boris Badenov then turned around, and slammed Deviled Egg into the wall full speed.
Deviled Egg got away, and Boris Badenov gave chase as Deviled Egg tried to spin up. However the relentless pounding from Boris Badenov had taken its toll, and Deviled Egg's weapon was now dead in the water. Boris Badenov then got under Deviled Egg again, and rammed it into the wall again, nearly slamming it out of the arena.
This slam did some severe damage as Deviled Egg was now having trouble driving straight. Borris Badenov took advantage of this, and slammed it around some more before slamming it into the wall where it got stuck. Deviled Egg was then counted out with 54 seconds remaining on the clock.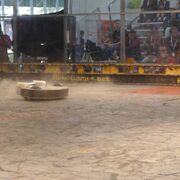 This put Deviled Egg into the loser's bracket where after recieving a bye, it faced
Mouse
, this match started with Deviled Egg attempting, and failing to spin up. This immediate weapon issue allowed Mouse to get underneath, and lift Deviled Egg with its flipping weapon. Mouse then attempted another flip, but missed, and got its flipper stuck in the upright position, and promptly used this to clamp down on the barely spinning drum of Deviled Egg.
"The drum is technically spinning, just not very fast."
— Scott Robinson
On top of this Deviled Egg was also having issues getting its wheels to contact the ground. Now severely crippled, and with Mouse's wide turning circle, both robots bumped into each other until less than a minute was left on the clock. At that point Mouse clamped down on Deviled Egg, and attempted to ram it into the wall, however Deviled Egg escaped, but promptly started emitting smoke as time ran out. Unsurprisingly the judges ruled the match 19-14 in favor of Mouse meaning that Deviled Egg was eliminated from the competition.
RoboGames 2018
Edit
Deviled Egg was slated to return for RoboGames 2018, however it wound up dropping out due to schedule conflicts with Battlebots.
Wins/Losses
Edit
Competition
Event
Opponent(s)
Round
Results
RoboGames 2017
220lb Combat
Boris Badenov
Round of 32

Lost

bye
bye
Mouse
Round of 24
Lost
Wins: 0
Losses: 2
Byes: 1
Community content is available under
CC-BY-SA
unless otherwise noted.