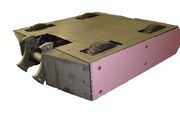 Eraser 3 was a middleweight robot that only fought in the 2005 RoboGames. It was a pink robot with a shape inspired by a common eraser, which also gave it its name. Its weaponry was a cutting disc.
Event History
Edit
RoboGames 2005
Edit
It beat War Path then fought Doom on you! and Who's Your Daddy and lost both fights.
Wins/Losses
Edit
Outside RoboGames
Edit
Eraser 1 and 2 fought in Season 3.0 and Season 4.0 of BattleBots where it met with greater success. In Season 3.0 it managed to get to the quarter finals before losing and in Season 4.0 it lost in its first battle.
Eraser was also entered into Season 5.0, but it had technical issues and forfeited.