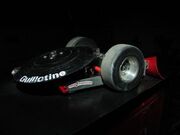 Guillotine was a Lightweight robot built by Team Widowmaker that competed at the 2015 RoboGames, Combots Cup VI, and VII, as well as the ComBots Texas Cup. It was a multi-colored, invertible, two-wheeled robot, armed with an angled titanium spinning disc, and a rear plow that could be swapped out for a wedge if needed. Guillotine did not do well in RoboGames finishing with career record of 6-8, and after RoboGames 2015 it was retired, and replaced with the much more successful Tastes Like Burning.
Robot History
Edit
ComBots Texas Cup
Edit
ComBots Cup VI
Edit
ComBots Cup VII
Edit
RoboGames 2015
Edit
Combat Record
Edit
Wins/Losses
Edit
Outside of RoboGames
Edit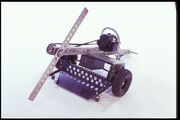 Guillotine was originally built for BattleBots Season 2.0 as Widowmaker as a vertical bar spinner rather reminiscent of Nightmare, and returned in Season 5.0 with the look that would ultimately evolve into Guillotine.