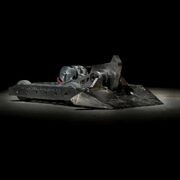 K2
is a Lightweight robot built by
Team Velocity
 that has competed since RoboGames 2007. It is a Four-wheeled, silver, box-shaped robot armed with a powerful single toothed vertical flywheel. K2 did very well in competition, winning multiple medals, and ususally finising its competition with a good Win/Loss ratio.
Robot History
Edit
RoboGames 2007
Edit
RoboGames 2008
Edit
RoboGames 2009
Edit
RoboGames 2010
Edit
RoboGames 2012
Edit
RoboGames 2013
Edit
RoboGames 2015
Edit
RoboGames 2016
Edit
RoboGames 2017
Edit
After recieving a bye in the first round, K2's first opponent was K-Torze. This match started with both bots spinning up. K-Torze then dlivered a massive hit that jammed K2'swedge into its spinning flywheel before delivering another hit that flipped K2 onto its back where it was counted out.
This put K2 in the loser's bracket where it recieved yet another bye before facing V for Victory. This match started with V for Victory attempting to spin up, K2 then delivered multiple hits to it, stopping its weapon. V for Victory then backed away to the wall to attempt to spin up, but K2 gave chase, delivering another blow, flipping V for Victory over where it was counted out.
"One Kev, Two Kevs, Three Kevs Four, how many V for Victory's are on my floor?" — Mark Elam after K2 flips V for Victory.
This put K2 in the Round of 16 where it faced Bugalele .
Wins/Losses
Edit
Community content is available under
CC-BY-SA
unless otherwise noted.