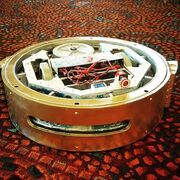 "Meet Nigel The Autonomous Combat Robot. Took 2 semesters but it was finally completed on time. She's 220 pounds of pure hurting bombs. Hopefully she will do well on competition day this weekend."
— Joey Lau
Nigel is a Heavyweight Robot built by Mack Hawkins, Mike Hritz, Joey Lau, and Zac Kilburn, students from the University of Akron for Robogames 2018. It is a two-wheeled, invertivble, gold, and white ring spinner. Nigel is unique in the fact that it does not need a driver being fully autonomous marking the first time in Robogames history that a Heavyweight was fully autonomous.
Robot History
Edit
Robogames 2018
Edit
Wins/Losses
Edit
Aside from being the first Heavyweight robot in Robogames history to be fully autonomous, Nigel also holds the distinction of being the first fully autonomous Heavyweight robot since 1997.
On top of this Nigel also holds the distinction of being the first time a fully autonomous Heavyweight has been entered into a main competition as the autonomous figts at Robot Wars 1995-97 were merely exhibition matches.
Despite the male name Thomas Lau insists that Nigel is female.
Honour
First fully autonomous Heavyweight in Robogames history
Community content is available under
CC-BY-SA
unless otherwise noted.