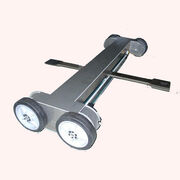 Sweet was a Middleweight built by team tasty that competed in ROBOLympics 2004. It was a Silver, invertible H shaped robot, with four exposed wheels, it was armed with a spinning bar. Sweet did not do well in the competition losing both of its battles. The team that built Sweet, also built a Lightweight version of it called Bit-O-Sweet which did just as poorly.
Robot History
Edit
ROBOLympics 2004
Edit
Sweet's first match was against former BattleBots competitor Bad Attitude. Sweet lost this fight, and was now in the losers bracket against Stahl. Sweet lost this fight as well, and was eliminated from its only RoboGames/ComBots appearance.
Combat Record
Edit
Wins/Losses
Edit
Outside RoboGames
Edit
Sweet also competed at BattleBots Season 5.0, as well as steel Conflicts 2, 4, and SDC where it did just as poorly with the exception of Steel Conflict 2, where it actually managed to win a fight.
See Also
Edit
Sweet (BattleBots)